---
Our Mission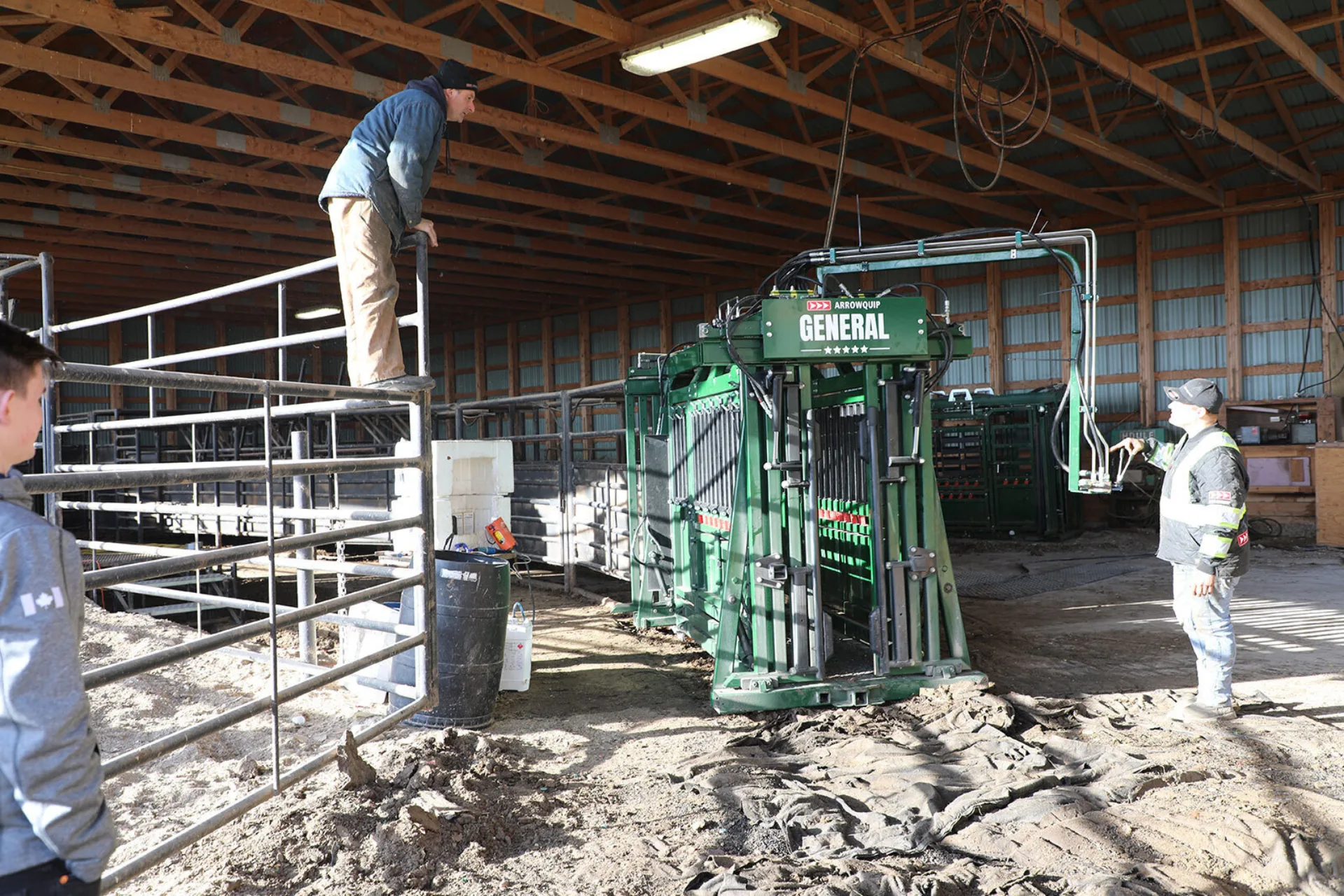 Testing Prototype 2 of The General, 2020.
Arrowquip is well-known in the cattle management industry for producing high-quality, durable cattle handling equipment, with a mission to make ranching families safer. Through an extensive research and development process, every piece of equipment designed by the Arrowquip team is built to make managing cattle easier, faster, and safer for ranchers, and now feedlot owners and operators. At Operation Arrowquip, we understand that on feedlots, the demands are higher, and the challenges are greater. Recognizing what's at stake, our team of experts researched, tested, and designed equipment built to tackle your top concerns at the level of quality and durability you require, with zero compromises. Operation Arrowquip, proven quality you can trust.
---
At Our Core
In Arrowquip's ranks, we are guided by three core values: Agile, Fair, Together, or AFT. AFT, in naval terminology, is the stern of the ship that guides the direction that it moves. Similarly, our Core Values Agile, Fair, and Together, shape the decisions that we make as a company and are the driving force at the heart of every decision made by the Arrowquip Team.
AGILE: we listen to the industry and create the cattle handling equipment that ranchers and feedlot owners and operators require.

FAIR: we respect and honor the time and effort that it takes to manage your cattle, your employees, and keep your operation running smoothly.
TOGETHER: we will help the cattle industry succeed.
---
The Arrowquip Difference
Backed by a team of Experts, Operation Arrowquip produces high-quality, heavy-duty equipment that challenges current industry safety standards and pushes them to a new level. Operation Arrowquip is a division of Arrowquip focused solely on feedlot and large cattle operations with one simple goal: minimize your downtime, so you can focus on your operation, not your equipment. 
Arrowquip is the only cattle equipment manufacturer to employ a team of engineers and experienced cattle handlers who are solely dedicated to creating safer cattle handling equipment in the industry. From the initial concept to the final product that arrives for duty on your operation, our Innovations Team is constantly testing, reviewing, and improving products to ensure that you only receive the highest quality products.

To assist in this, our Client Care Team adhere's to the highest standards and never settles for anything less, because neither should you. If an issue does arise with your equipment, we will solve it ASAP, so you can get back to more important matters. 
A close connection to our Innovations and Client Care Teams, our Livestock Experts and System Design Specialists are our secret weapon. This team is dedicated to working with you, on your timeline, to ensure you get the best cattle management solution for you and your operation. Rest assured, you can rely on your Operation Arrowquip equipment to boost productivity on your operation for years to come.